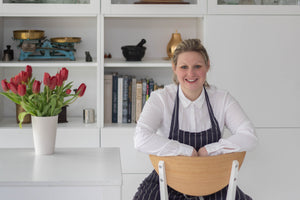 I grew up in Hungary, in a village about 35 miles away from Budapest where my professional career started in 2008. My dream was to work in Michelin starred restaurants. In 2010 I moved to England and started working for the Hinds Head (a pub next to the iconic Fat Duck owned by Heston Blumenthal). In 2012 The Hinds Head restaurant received its' Michelin star. In 2013 I moved to London and worked for the two Michelin starred Square Restaurant by Philip Howard, gaining valuable experience.
Over the years I staged (i.e. free work in exchange for knowledge and experience) at The Fat Duck in Bray; at Dinner by Heston Blumenthal in London and at the three Michelin starred Frantzen in Stockholm.
Below you will find sample menus. You can add extras like antipasti, cheese or canapés. After booking we will contact you. Feel free to pick and mix any courses and discuss your ideas and requirements.
Bespoke menus may have additional costs (e.g. if you would like fresh truffle with your meal). These will be invoiced to you upon confirming the finalised menu.
For parties bigger than five people get in touch via our contact page.
Eniko Fejer